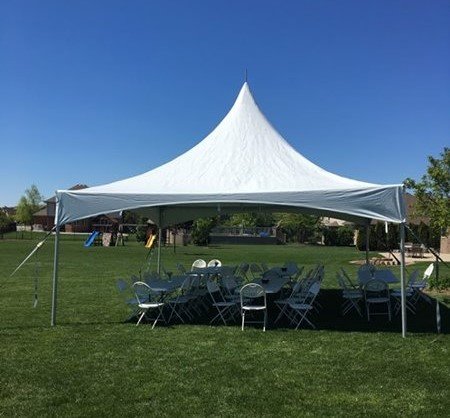 High Peak Tent 20' X 20'
Our 20 foot by 20 foot aluminum frame tents are awesome. We switched to frame tents because it eliminates the center pole and gives our customers more space under the tent than anything else currently being made. We also have sidewalls both full blockout and also with windows. To go with our tents we also have chairs and tables both round and rectangular. Fits 6- 8´ banquet tables w/ 48 chairs or 4- 5´ round tables with 32 chairs. Everything for you to have an awesome party under one roof.
All tents are staked out onto grass. No exceptions. Please plan space accordingly.
Caution: Decorations have been know to leave a residue or stain on Tent Top and Poles. You will be charged a replacement and/or cleaning fee if that happens. DO NOT USE ANY crepe paper decor or streamers! Remove all tape residue, signs, lighting, and decorations or you will be charged a cleaning fee!
An 8'clearance is required away from overhead power lines (electrical) because power can jump.
We require that you mark off the area of desired setup. You can take a picture of the area and mark on it and send to 708-259-4076 at least 3 days in advance of party. Please plan lawn service accordingly in advance of your party as setup may occur as early as Thursday for a Saturday or Sunday party. Please mark all sprinklers in the immediate area of setup.